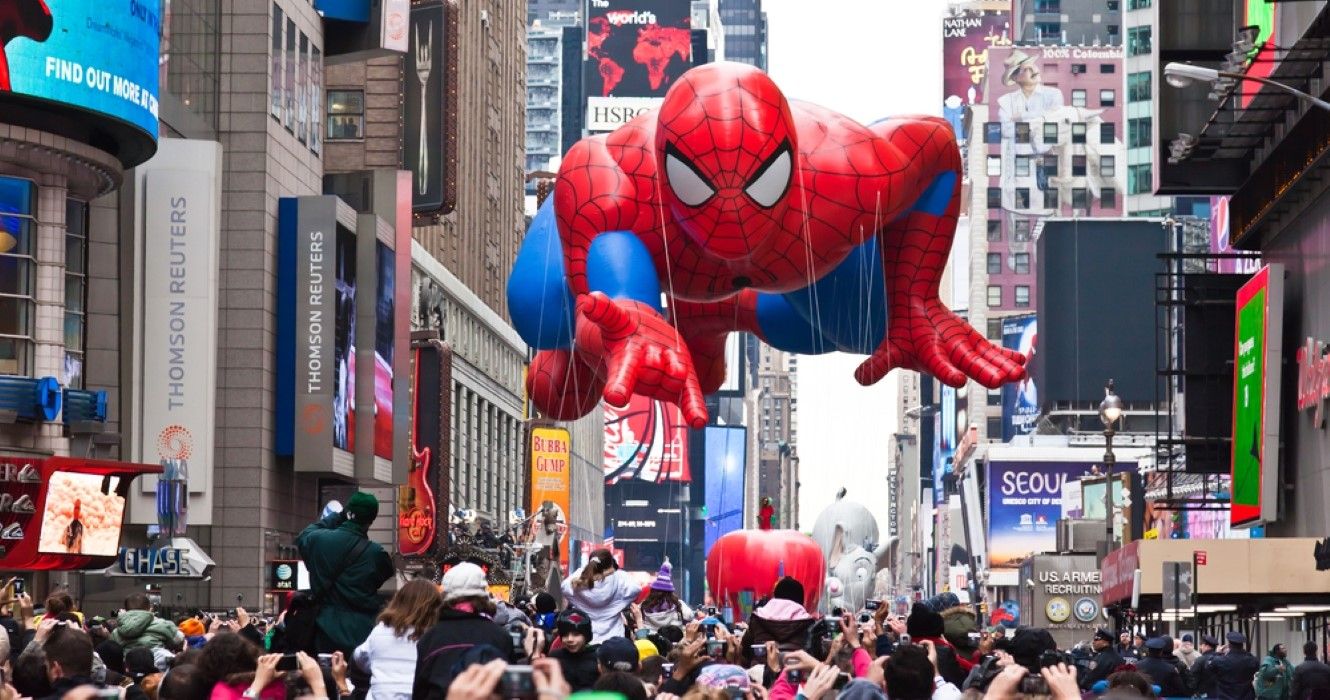 10 New York Hotels Where You Can Get Stunning Views of the 2022 Macy's Thanksgiving Parade
What better place to celebrate Turkey Day than to take part in the Macy's Thanksgiving Parade? With celebrities on floats, giant balloons drifting through Central Park West, and marching bands galore, this iconic part of Americana is a national treasure. Why not head to New York and stay in one of the coveted hotels with seats overlooking the parade? See a float pass by and wave to the crowd – from the warmth of your own bedroom – and have the ultimate Thanksgiving experience as you spend the day with those who make you feel at home.
Get ready to whip up some mashed potatoes in anticipation of booking your trip, because we've searched everywhere for the best places to watch the parade in New York, and you don't want to miss it.
Related: 20 Shady Things About The Thanksgiving Parade (Macy's Will Never Share)
10/10

Mandarin Oriental New York

This is one of those hotels that takes your breath away when you walk in. With its sleek design and sleek decor, the Mandarin Oriental is a favorite spot for celebrities. Located at Columbus Circle, the parade passes right in front of the hotel, so guests can watch the festivities unfold. Just steps from the entrance to Central Park, it's the perfect location for that ultimate New York vacation getaway.
9/10

1 Hotel Central Park

A luxurious, eco-friendly hotel located in the heart of Central Park South, 1 Hotel Central Park features nature-inspired design that leaves guests feeling relaxed and inspired. Enjoy sweeping views of Central Park with only the occasional Thanksgiving Parade floats passing to block your view, and all the while feel good knowing this eco-friendly hotel is neutral carbon and LEED certified. And when it comes to that after-dinner coma, the hotel offers in-room wellness options, like the sauna blanket, so guests can truly unwind.
8/10

The Ritz Carlton

For that classic New York experience, there's nowhere more festival than the famously grand Ritz-Carlton. Guests feel transported to rooms that set the standard for stately opulence. There's a sense of magic here, with white-gloved doormen holding the doors open for guests as they step outside in the fall of New York City. Put away the oven mitts and enjoy their famous Thanksgiving dinner from their Contour restaurant's prix fixe menu.

Related: An Insider's Guide to Visiting the Rockefeller Center Christmas Tree
7/10

JW Marriott Essex House

With its Art Deco design and rooms overlooking the parade, guests can enjoy a wonderful vacation in style. Located just steps from the Central Park Zoo, Lincoln Center, Columbus Circle, Carnegie Hall, and many high-end stores on 5th Avenue, there's plenty to see and do here. For guests who cannot book a parade view room, they can still enjoy stunning views from the hotel restaurant.
6/10

The Quin Central Park By Hilton Club

This boutique-style hotel offers guests extravagant accommodations and a prime location, making it a chic way to spend Thanksgiving. Most rooms have views of Central Park, but it's the parade views that make this a great vacation choice. Just steps from Carnegie Hall, numerous restaurants and, of course, Central Park, this is a festive hotel to spend with family or friends.
5/10

Warwick New York

This historic hotel, built in 1926 by William Randolph Hearst, is one of the most iconic hotels in all of New York. A 4 star luxury hotel that has hosted legends like the Beatles, Elvis and Cary Grant, it is also located in the city center and a relatively short distance from Rockefeller Center, Times Square and Central Park. Take in views of the parade floats while enjoying a breathtaking stay.
4/10

Residence Inn New York Manhattan/Times Square

This is an especially perfect hotel for Thanksgiving, as it offers suites with kitchens to do all the baking and cooking for a big holiday dinner. Of course, guests come here to watch the parade, and the hotel has a team to help guests book the best rooms for such a delightful experience. Guests looking to catch a Broadway show will be pleased to find that this hotel is located just steps away. Get ready to peel some potatoes and watch the floats go by!
3/10

New York Hilton Midtown

Located near the Museum of Modern Art and the LOVE Statue, this cozy and slightly more budget-friendly hotel has many rooms with views of the Macy's Thanksgiving Parade. Located directly along the parade route, guests will have unobstructed views as it passes by their windows. The best of all? After the parade was over, guests reserved their seats for the Thanksgiving feast at the Herb N' Kitchen lobby level.
2/10

Trump International Hotel and Tower in New York

Steps from Columbus Circle and the entrance to Central Park, this hotel is on the parade route. Guests can see the festivities unfolding from their rooms with floor-to-ceiling windows. With plenty of amenities, it's a great place to spend Thanksgiving, while pampering yourself afterwards.
1/10

Park Lane New York

With views of Central Park and plenty of cozy features, it's a great option for families looking for a comfortable yet stylish place to stay and watch the parade go by. With a fantastic cafe and pub for grabbing some holiday fare, patrons can enjoy the parade and, when it's all over, cross the street for a quick autumn stroll through the park, where they're sure to be grateful to be spending Thanksgiving in the largest city in the world.