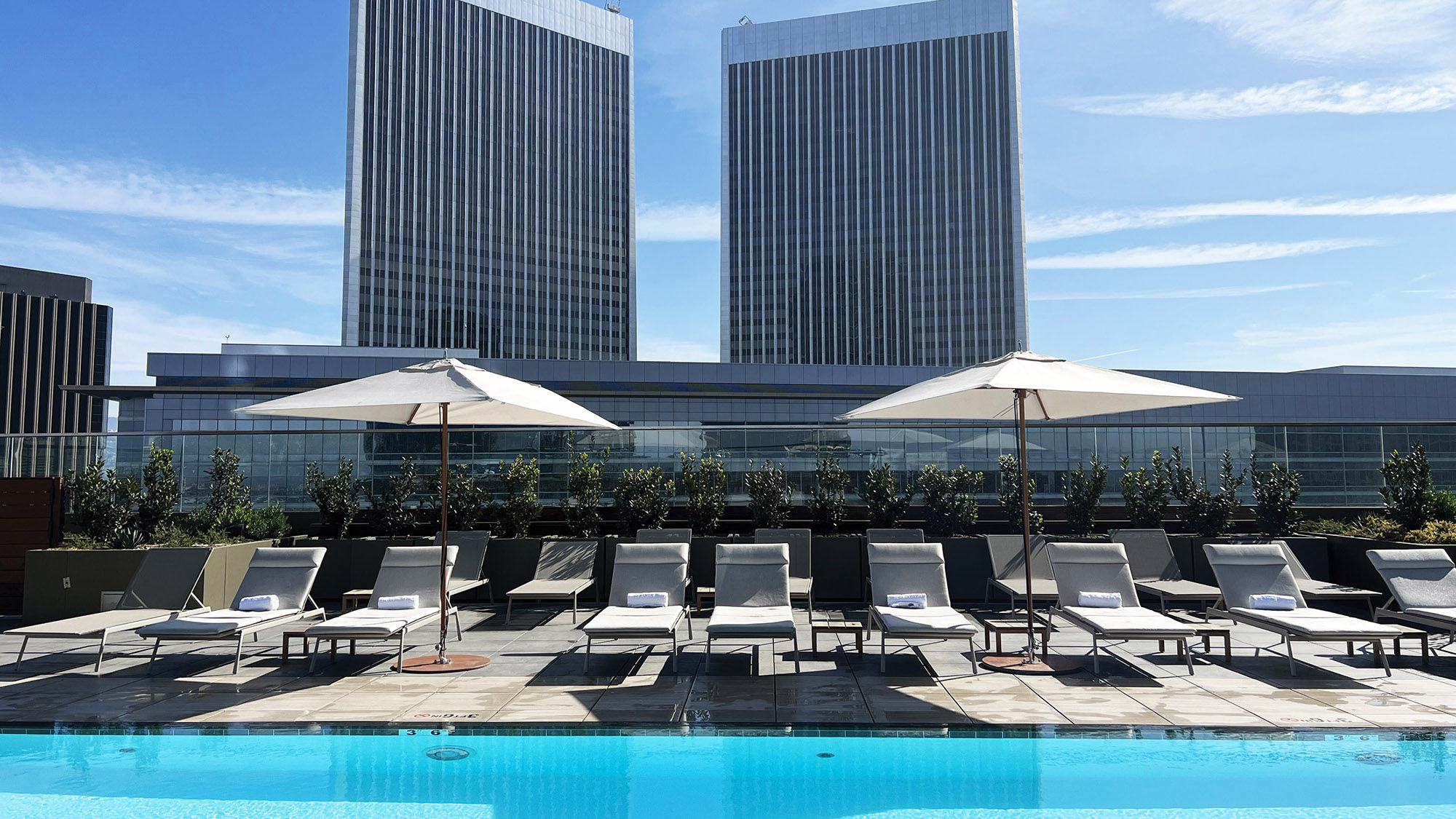 A chic girlfriend getaway at the Fairmont Century Plaza in Los Angeles : Travel Weekly
Earlier this year, I pulled off a feat that never in the past two years would I have considered a safe bet: I asked my two best friends to meet me in the lobby of the Fairmont Century Plaza in Los Angeles.
We've come from far (East Coast metropolises) and near (Culver City, CA) for a "girls weekend," an age-old tradition that is now definitely achievable thanks to the easing of pandemic restrictions and the need to reconnect with close friends and family. In our case, we desperately wanted to escape our homes – with kids and husbands, demanding jobs and Covid-era routines – and sip cocktails, get spa treatments, chat poolside and drink. in the Southern California sun for a few days.
As a meeting place, the Century Plaza was ideal.
The hotel has just completed a top-to-bottom overhaul under the Fairmont banner, retaining its typical mid-century Minoru Yamasaki facade but reducing the number of rooms to 400, overhauling the lobby, adding two residential towers and making everything fresh, new and luxurious. It reopened last year and is comparable in amenities and style to other luxury hotels in the Los Angeles area.
I spent 24 hours as a guest of the hotel and during my stay I hit most of its high points for pampering and fun. Here's a way to spend your time, whether it's with friends, family, on a solo getaway, or on a business trip.
The hotel's rooms are dotted with sketches and movie quotes, a nod to its location on what was once part of a movie studio backlot. Photo credit: Photo TW by Rebecca Tobin
2 p.m.: Registration. My room, a Deluxe Double Room with Sunset View, was light, bright and airy. As a heat-starved New Yorker, I immediately opened the balcony doors and enjoyed the afternoon sunlight (hence the name "sunset view") . And since the hotel is in Century City, built on part of the former Twentieth Century Fox backlot, it nods to classic movie lines with little quotes and sketches scattered throughout the room. A "Coffee is for Closers" note sits next to the Nespresso machine, a "Go ahead: Make my day" notepad is on the bedside table. My friend Angeleno rushed over, snapping photos and exclaiming over the quotes.
Even with two beds, the room is not really big enough for three women, their suitcases and their belongings. But there is a solution: connecting rooms.
3 p.m.: Pool time. If there isn't a rooftop pool, are you even in a fancy LA hotel?
The Century Plaza rooftop setup is a must-visit, with 360-degree views and the Yamasaki-designed Century Plaza towers as a backdrop. Living walls and teak wood accents enliven the space. We staked out three comfy lounge chairs and settled in to chat, stopping occasionally for a dip in the pool. The rooftop bar isn't open yet, but guests can order room service for poolside delivery. Starting in mid-July, Fairmont is also planning a kind of poolside picnic menu, with food and drinks packed and delivered in a cooler.
Check-in at Fairmont Century Plaza
7 p.m.: To eat. The Lumière restaurant is cozy and old-fashioned in a Paris-salon-art-deco-1920s style; the restaurant's designers have scoured France and returned with vintage furniture and fixtures, arranged to delightful effect. For larger groups, a private dining room (with direct access to the bar through the window) seats 12 people.
And the food is horribly good. I was strongly advised to try the chicken liver mousse, and now I'll give you the advice: you won't be disappointed. Put yourself in the hands of the waiter and be sure to order a good red to wash it all down. Could there be star sightings too? The Creative Artists Agency headquarters is just across the street.
Before and after dinner: Lobby cocktails. The hotel's redesign incorporated high ceilings, extensive vegetation, light woods and marble and achieved what every lobby designer hopes to do: create a place where people are eager to book a meeting. business, to have a drink, to relax or to meet up with friends. There's also varied topography in the room, creating both front and center cocktail tables and nooks for more private drinks.
A pre-Covid decision to turn most of the front wall into giant walls of windows that slide out at the touch of a button is paying off, as the room is essentially an extension of the outdoors.
I recommend ordering creative cocktails from the music-inspired menu (plus the LA mood: the hotel elevators are nicknamed Sonny and Cher).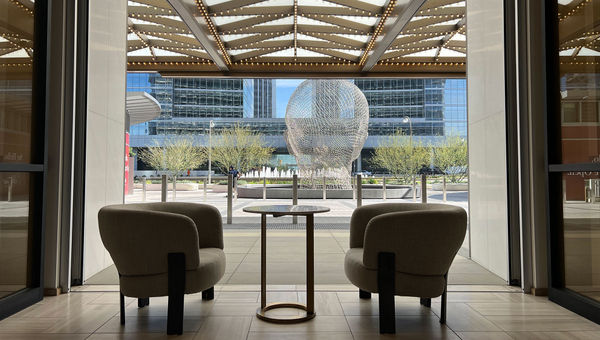 A view of the lobby of a sculpture by Jaume Plensa. The glass walls of the hotel lobby sink into the ground, creating an interior extension of the exterior. Photo credit: Photo TW by Rebecca Tobin
8am: Coffee. Groggy and jet lag? There's nothing better for that than coffee on the balcony and the fluffiest bathrobes ever (no kidding, Fairmont, you win!).
10 a.m.: Spa. The Century Plaza is deceptively huge. Much of the hotel is actually hidden underground, and it has extensive meetings and event space. But it also has a 14,000 square foot spa. Think high ceilings, slate-colored tiles and nine treatment rooms. It also has a huge connected steam room/salt/sauna called the amenity area which I appreciate because I like the DIY aspect, and it's fun with girlfriends trying out different pieces, making part of a group but also create your own trip. (The men's side is separate but equal, minus the salt and hammam rooms).
Access to the suite can be booked alone or is free with any treatment, and it's worth leaving extra time to wander around the space, letting your mind relax. I sat in the steam room, then the sauna, then the Himalayan salt room, then the rain shower, then the steam room again. During this time, I occasionally bumped into my buddies as they cooled off in the shower and sweated it out in the sauna.
PS Since checkout is at noon, try to request a late checkout to enjoy a cup of tea in their waiting room.
Post-payment: In-N-Out Burger on Venice Boulevard. I mean, after the spa, how can you not? Girlfriends, let's go!