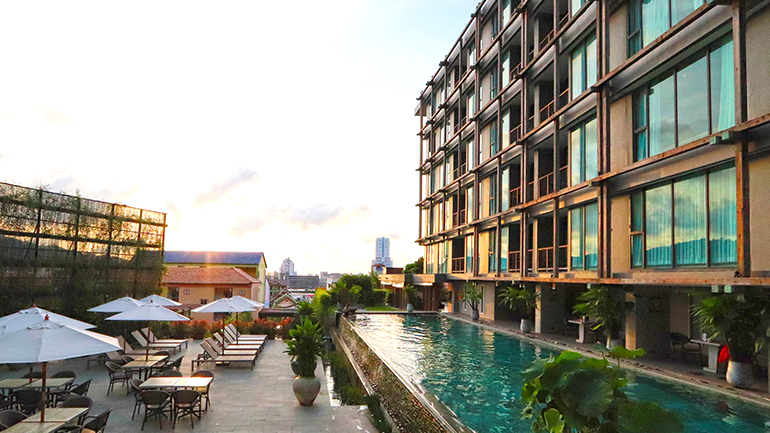 A new luxury hotel in Patong will open mid-2023
IHG Hotels & Resorts (IHG) announces a new luxury hotel in Patong in partnership with Dinso Resort Co., Ltd in mid-2023.
The sustainability-focused Dinso Resort Phuket, Vignette Collection will be IHG's fourth Vignette Collection property open or under development in Thailand, following the launch of its 17th and newest brand last year. Built primarily through the use of wooden materials, the new luxury hotel in Patong blends seamlessly into its hillside surroundings and welcomes guests looking for a tranquil, nature-based getaway.
Saowarin Chanprakaisi, Development Manager, Southeast Asia and Korea, IHG, said, "It is fantastic to work with our first partner Dinso Resort Co., Ltd to open our fourth Vignette Collection hotel in Thailand. We see a demand for authentic and experiential experiences, and with light on environmental and social issues, meaningful and responsible stays. This new collaboration shows confidence in the market-focused Vignette Collection brand, which has grown rapidly since the successful opening of Sindhorn Midtown, our first Vignette Collection property, in Bangkok earlier this year.
"Located in the popular destination of Patong, Dinso Resort Phuket, Vignette Collection will reinforce IHG's growing presence in Phuket, where we have hotels across four of our world-renowned brands – InterContinental, Hotel Indigo, Holiday Inn and Holiday Inn Express. "Before the pandemic, Phuket attracted over 10 million visitors a year and, after Bangkok, was the most visited destination in Thailand. We look forward to welcoming guests to this beautiful hillside resort."
Wanchai Akkaravivat, Managing Director of Dinso Resort Co., Ltd, said, "We have always had a strong vision for Dinso Resort: to be a design-driven, lifestyle-driven resort, built with care, thought and in a sustainable way. We took our time developing its barefoot luxury experience coupled with its distinct character and identity, and when we saw Vignette Collection come to life in Thailand, we knew it was the perfect brand for our property.
"We have found the perfect partner in IHG, seen their success in launching new brands in new markets, including the InterContinental brand in Phuket, and fully believe in their ability to deliver results while having a positive impact on the Phuket community. As a Vignette Collection hotel, Dinso Resort will offer a one-of-a-kind stay with memorable rituals for every guest and a commitment to supporting the Phuket community.
A 60-minute drive from Phuket International Airport and just eight minutes from the bustling tourist hub of Patong, Dinso Resort Phuket boasts a hillside location that offers guests an exclusive and immersive nature getaway.
Certain to attract families, couples and friends, the new luxury hotel in Patong offers a choice of 148 rooms and suites and 26 villas with treetop pools and breathtaking views of the Patong coastline. Facilities will also include two restaurants and bars, a 150 square meter meeting room, swimming pool, fitness center and spa. The property enjoys easy access to the picturesque white sand beach of Patong and a wide range of restaurants, bars, night markets and shopping malls.
IHG has 30 hotels across nine brands in Thailand and a pipeline of 36 properties* set to open as it grows its luxury and lifestyle portfolio in the country by 50% by 2026, while doubling its domain in all brands.
Dinso Resort Phuket, Vignette Collection will support the brand's continued global expansion since its launch in 2021. With three hotels already open and six in its global pipeline in markets including Austria, Portugal and Thailand, Vignette Collection is a collection of luxury hotels in dynamic destinations. around the world – each one unique in itself, with a distinct perspective and story to tell.
The New Luxury Hotel in Patong will be open for reservations through the IHG website here and will become part of the Vignette Collection in mid-2023.