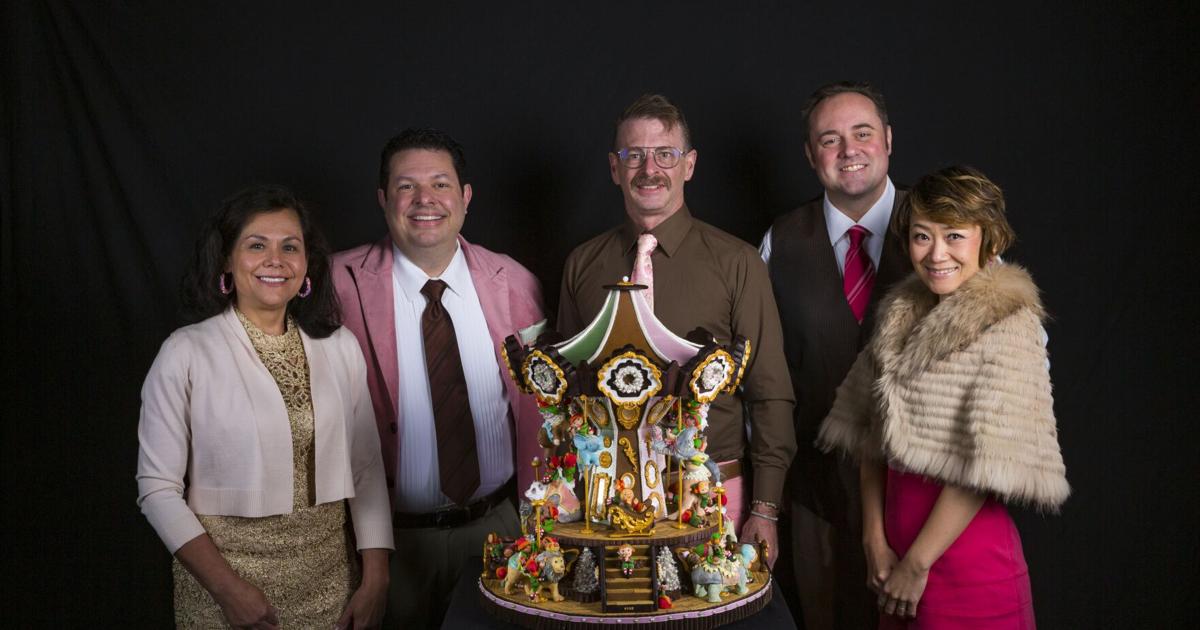 Asheville Hotel Celebrates Gingerbread Houses For The Holidays | Life
ASHEVILLE, NC – The 29th Annual National Gingerbread House Competition returned in person to the Omni Grove Park Inn after a virtual 2020, making it the first time in two years that bread artists spice of all ages and from all walks of life have come together to present their one-of-a-cool creations.
Over 120 exaggerated gingerbread design entries – in all categories – were submitted across the country, for an opportunity to win a $ 25,000 coin in cash and prizes.
A panel of Michelin-starred judges, made up of renowned food, art and media professionals, rated each creation based on overall appearance, originality and creativity, difficulty, precision and consistency of the theme, each entry having to be 75% gingerbread and 100%. edible.
The 2021 panel featured Carla Hall, celebrity chef, author and TV personality; Nadine Orenstein, Curator of the Drawings and Prints Department of the Metropolitan Museum of Art; Cheryl Forberg, James Beard Award-winning chef and dietitian; Mark Seaman, the head of culinary applications at Barry Callebaut; Geoff Blount, Chef, Baking and Pastry Arts Program Manager at ICI Myrtle Beach; John Cook, executive pastry chef at the Omni Grove Park Inn; Steven Stellingwerf, pastry chef, author and teacher; Aaron Morgan, executive pastry chef at Stable Café on The Biltmore Estate; Senior Judge Nicholas Lodge, author of over a dozen books on the art of sugar and educational DVDs; and many more.
The 2021 winning entries in the adult, adolescent, youth and child categories include:
• Grand Prize Winner, Adult: The Merry Mischief Bakers, "Christmas' Around the World" – Phoenix
• Second place for adults: Grier Rubeling, "Gingerbread Nutcrackers" – Cary, North Carolina
• Third place for adults: Bill and Cheryl Filion, "A Spin on Christmas" – Medina, Ohio
• Teen (13-17 years old) First place: Courtland High German program, "Elves After Hours" – Spotsylvania, Virginia
• Second place for teens: Emma Rhinehart, "The Study of Santa Claus" – Colombia
• Third Place for Teens: Abigail Woerner, "Holly Jolly Christmas" – Concord, North Carolina
• Youth (9-12 years old) First place: Lolajay Wilson, "Picture Perfect Holiday" – Asheville, North Carolina
• Second place for youth: Emmalyn Frost, "Upside Christmas" – Knoxville
• Third place for youth: Alana Armenti, "Winter Wonder Wheel" – Simpsonville, South Carolina
• Child (5-8 years old) First place: Parker Webster, "Zoom with Santa" – Greenville, South Carolina
• Second place for kids: Glitter Girls, "Santa and Friends' Christmas Little Ones" – Blue Ridge, GA
• Third place for kids: BMP Smart Cookies, "December 26" Black Mountain, North Carolina
As the competition reverted to an in-person format for 2021, the hotel has maintained a virtual component for everyone to enjoy the gingerbread masterpieces.
Fans at home can connect virtually to 12 Days of Gingerbread, a new way to celebrate the winners of the National Gingerbread House Contest for all to enjoy. From December 1 to 12, one winner per day will be announced via social media, with the grand prize winner revealed on December 12 (National Gingerbread House Day). Connect via Facebook (@omnigroveparkinn) and Instagram (@omnigrovepark).
In true holiday spirit, the Omni Grove Park Inn will be showcasing All Gingerbread Creations from November 28 through January 2 after 3 p.m. Sunday and anytime Monday through Thursday for visitors driving. The exhibition is open to internal clients 24/7. A self-parking fee of $ 25 per car will be charged for one-day driving guests, with a portion of the parking proceeds going to United Way of Asheville and Buncombe County; American Legion Baseball Station # 70; Meals on Wheels from Asheville and Buncombe County; Asheville City Schools Foundation; Horizons at CDS; Priority to children / Communities in schools; Asheville Museum of Science and Camp Watia Camper Scholarship Fund. Since 2013, the Omni Grove Park Inn has donated over $ 575,000 through the Holiday Parking program, supporting the local community and nonprofit partners in western North Carolina.
The Great Hall at the Omni Grove Park Inn has been transformed into a vacation destination, with a life-size gingerbread house inspired by the historic hotel. Guests can enjoy homemade hot chocolate, specialty craft beer in partnership with Highland Brewing, and sweet treats by the glow of the Grove Park Inn's iconic fireplaces.
Travelers interested in seeing the jaw-dropping vacation designs and planning a festive retreat can book the Gingerbread Vacation Package for stays through Sunday, December 30. Package includes luxurious accommodations, buffet breakfast at Blue Ridge Restaurant per registered guest, one gingerbread cookie per registered guest and overnight valet or self parking (one vehicle per room). Guests can also prepay it this season through Omni Hotels & Resorts' Say Goodnight to Hunger program, which includes a donation to MANNA FoodBank for every stay at the resort.
To reach the Gingerbread hotline for the latest news on gingerbread, call (800) 413-5778.
For more information or to reserve, call (800) 438-5800 or visit www.omnihotels.com/hotels/asheville-grove-park.
For the latest news and updates, download the Johnson City Press app.