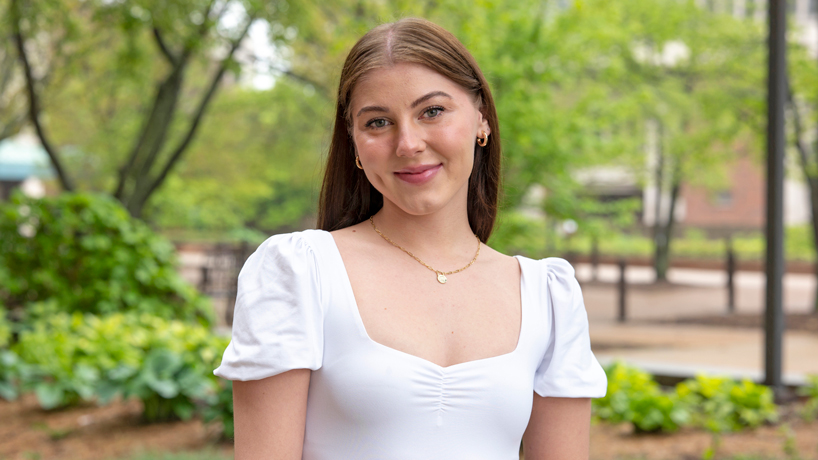 Business student Hannah Brazel helps a family in need with Be The Match – UMSL Daily
When Hannah Brazel's cousin was diagnosed with leukemia in 2017, she didn't hesitate to join be the match.
The organization is a non-profit organization that operates the world's most diverse bone marrow registry and coordinates donations and transplants for patients with life-threatening blood diseases such as leukemia and lymphoma. Brazel and the rest of his family weren't compatible with his cousin, but he found a vital donor in Germany through Be The Match.
Brazel, an elderly person major in marketing to University of Missouri-St. Louiswas on the registry for four years before recently donating peripheral stem cells to a leukemia patient.
She completed the transplant in Washington, D.C., this spring and has become an advocate for the program, raising awareness of the difference it can make for patients with blood diseases, while finishing her bachelor's degree, serving as Marketing Secretary. Club and working at UMSL Leisure and Wellness Center.
"It's definitely a rewarding experience," she says. "I joined the registry for my cousin and couldn't donate for him. So it's great that I can donate for someone. I had the opportunity to do what my cousin's donor did for him and saw how much hope it gave my family. I'm glad I was able to give so much hope to someone else's family.
Be The Match has already reached out to Brazel about two other potential matches. However, the patients were ultimately not healthy enough to receive a donation. But the third time was the charm. After a blood test, Brazel was deemed a perfect match.
She flew to the nation's capital to begin the non-surgical donation process, where her plasma and stem cells were separated from the rest of her blood. The procedure was both exciting and nerve-wracking.
"It was kind of like a whirlwind of emotions," Brazel said. "In the five days before and on the day of the donation, I had to have these injections – they are called PRP injections. I must have had two in my stomach every day, and that was what I was most nervous about because they said it was going to hurt your bones. Sure, but since I was young, fortunately, it didn't hurt me too much.
For now, contact between Brazel and the patient is being kept anonymous. After a year, they each have the option of providing contact information and meeting in person if they wish. Brazel isn't sure if she'll meet the recipient of her gift, but after living through her cousin's battle with cancer, she's just happy to comfort another family.
"You never know what this family is going through, and this family is a normal family, just like yours," Brazel said. "They're going through such a big thing, and for you to be the person to actually help them, it means so much to them. You're a stranger helping another complete stranger, so that's a really big thing, and it's definitely a rewarding process.
In addition to her advocacy for Be The Match, Brazel is working on a bachelor's degree in marketing and hopes to graduate in December. The reputation of the College of Commerce and Administration attracted Brazel to UMSL, and she decided to study marketing because she has a passion for involving people.
She has been very involved on campus herself.
During the last semester, she served as secretary of the Marketing Club and as Co-Chair of Social Media and Marketing for the Women's Empowerment Club. She also worked her way through college, having been promoted multiple times at RWC.
"I was a little scared to find a job while in school because college is already so much, but the leisure center is very good at balancing your school and helping you where you need it," said- she declared. "They are also very big on growth."
At RWC, Brazel had the opportunity to grow and take on additional responsibilities. After working in an entry-level position, she was quickly promoted to Senior Climbing Wall Supervisor and also secured a position in the Member Services Office. The RWC also opened a position as a marketing assistant for Brazel, where she worked with social media and event planning. Most recently, she held the position of building manager.
"I actually applied to be a building manager once a year, and I didn't get hired," she said. "But since then I've been promoted to climbing wall manager, supported in the membership office, marketing assistant, so they've really seen those leadership skills from me and seen that growth. They thought I was ready for the position of building manager.
As building manager, she is excited to continue to develop her leadership skills, help coordinate staff and ensure members feel welcome in the facility.
This summer, Brazel turned her RWC experience into an internship as a recruiting coordinator at Burnet Specialists in Austin, Texas, where she continues to make perfect matches.
"I really like recruiting because it's like marketing to these companies and these people who are trying to get jobs," she said. "It gives me the opportunity to help people find where they're supposed to be, so I really like that recruiting factor."
Click here for more information on joining Be The Match.

Short URL: https://blogs.umsl.edu/news/?p=93982