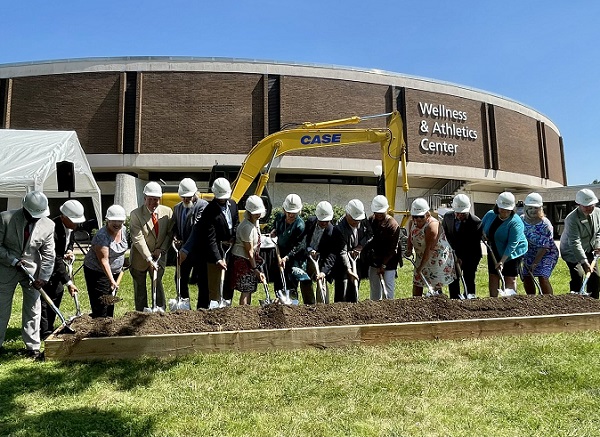 CCBC Essex inaugurates major refurbishment of wellness and athletics center
ROSEDALE, MD – Community College of Baltimore County, Essex launched major renovations of its wellness and athletic center with a groundbreaking ceremony held Wednesday afternoon at 7210 Rossville Boulevard in Rosedale (21237). Construction should start this summer.
Built in 1972, the CCBC Essex Wellness and Athletics Center currently houses programs in the schools of Wellness, Education, Behavioral and Social Sciences, Arts and Communication, and Continuing Education and of economic development. An 8,000 square foot addition will be added to the building for a new fitness center, along with plans to renovate approximately 6,500 square feet on the existing mezzanine level to create two large dance studios with changing rooms, faculty offices and restrooms. Additionally, approximately 7,000 square foot renovations on the main level will revamp the athletics program's support spaces, hallways and lobbies to accommodate the new fitness center.
The $16.8 million project, which was funded by the State of Maryland and the Baltimore County government, will provide a state-of-the-art facility for CCBC dance students, a significantly upgraded and expanded fitness center for the entire campus community as well as reorganized and efficient training and equipment storage/distribution spaces that support educational, recreational and competitive athletics programs. The project is expected to be completed and occupied in the fall semester of 2023.
"We are grateful to our partners at the state and county level who have made funds available to begin construction of this 50-year-old building," said CCBC President Sandra Kurtinitis. "The planned renovations to the Wellness and Athletics Center will truly enhance the overall experience for everyone who enters this facility. Not only will the building look better, but it will also provide a more functional learning space for students. »
Photo via CCBC