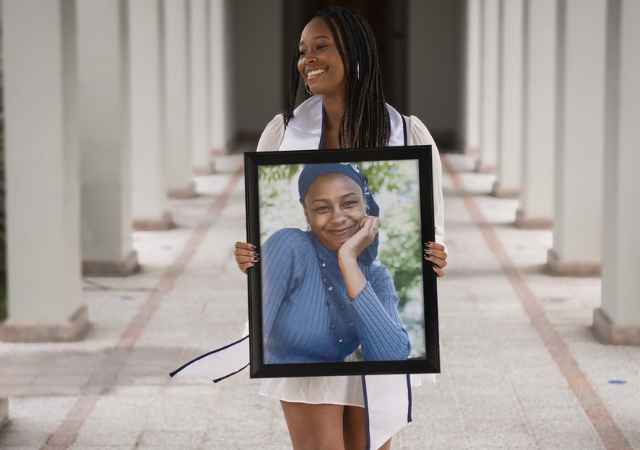 Get Strong at Copley Library
Kanuri Roundtree likes to stay busy. As a freshman, she knew she wanted to find a job, but also knew it would be on campus because she didn't have a car. Her friend, Vida Vousoghian, who worked at the Copley Library, suggested she apply for a job there.
"I remember being on the interview with access and outreach services manager Chris Marcum, and he told me he was from Alabama," Roundtree says. "I said, 'No way! Me too!'"
The fateful connection convinced her to accept the job offer and start working for Copley, a decision that was rewarding.
Recently, Roundtree was named University of San Diego Employee of the Year, Western Association of Student Employment Administrators (WASEA)California Student Worker of the Year and WASEA Regional Student Worker of the Year finalist.
"I was at work and I went out and there were balloons," she recalled. "They [Copley Library staff] said: 'You are the employee of the year in USD… and in California!' I was like, 'Wait, what?! That's crazy!'"
Although Roundtree was taken by surprise, for any outsider the accolades are well deserved.
"I had to step back and see the four years of working at Copley and everything I juggled around it," she says. "It was a great moment to feel recognized and remind myself, 'You did a great job.'"
She juggled more than her fair share as a young adult. During her freshman year of high school, her mother was diagnosed with colon cancer and died in 2019, during Roundtree's sophomore year of college.
As a single child in a single-parent family, this major life transition hit her hard, but it also made her appreciate the small size of the USD. The close-knit community on campus allowed her to meet her needs and receive support.
"If I was in a school where the lecture halls are 250 people, they won't have that type of understanding to say, 'Hey, I saw you in class, you put in the work, if you need to take time, take time.
Roundtree says she was grateful for the resources SHU provided her with during this difficult time in her life, from faculty support to the services offered by the health and wellness center. But perhaps more important to her success is the positive attitude she exudes.
"My positivity comes from my mother. She was a crazy, amazing, wonderful person and every time something went wrong she would say, "Let's take a second, breathe and talk about what went well today." It's so easy to focus on everything that's wrong that you don't recognize your small victories.
Now Roundtree treats his days like a basketball game. Did you wake up late? Okay, so not a good first quarter, but using his glass half full method, a person can still recover in the second half.
Work has also helped her stay upbeat and focused. She started in first grade storing and organizing books, which created a "quiet space" for her. Once the COVID-19 pandemic hit, her supervisors asked her if she would like to work on Copley Library's social media account so she could continue working remotely. She said yes and immediately began creating Instagram posts to excite the campus community about the Copley renovation and events.
Roundtree's role at the library has evolved to include duties such as event planning surrounding midterms and finals. It's yet another way for her to share her enthusiasm for the Copley Library with others.
"It's such a quiet place to work and it's amazing to learn the inner workings of a library. These are not just places to study, there are so many other resources for students.
Although she is graduating this month with a bachelor of science degree in chemistry, Roundtree is not leaving San Diego. She will begin pursuing her master's degree in analytical chemistry at UC San Diego this fall, continuing her academic journey.
– Kelsey Gray '15 (BA)
Photo of Kanuri Roundtree holding a framed photograph of her late mother was photographed by Brose Photos and provided by Kanuri Roundtree.