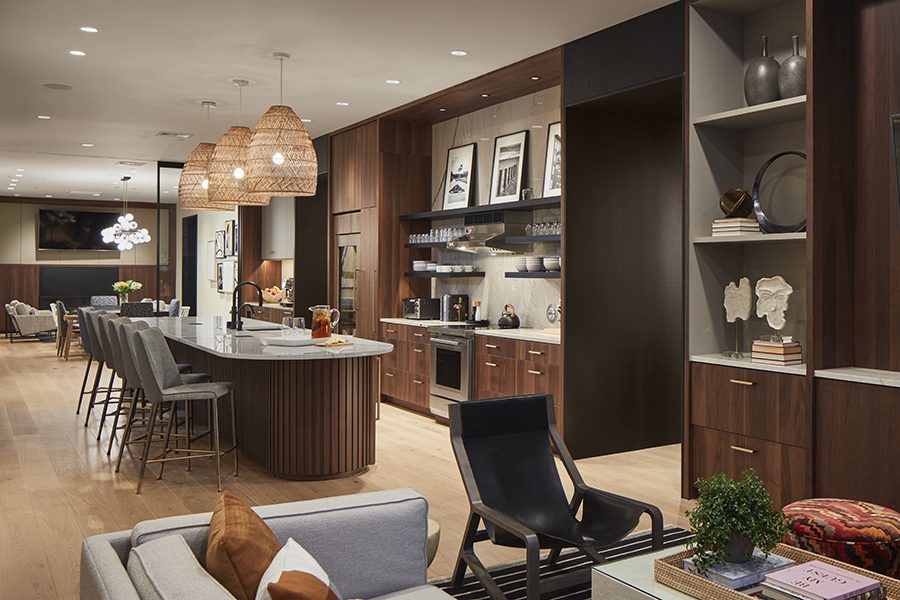 Kinn Guesthouse opens location in downtown Milwaukee
Chicago-based Mary Cook Associates (MCA) has completed the interior design of the Kinn Guesthouse Downtown Milwaukee. The boutique brand's second outpost, the 31-room hotel occupies a redeveloped four-story mid-19th-century structure that's been invigorated with clean modernism and works by local artists.
"The Kinn Guesthouse Downtown Milwaukee concept combines the unique aesthetic of a boutique hotel in a historic building with the modern comforts and conveniences of a luxury residence or short-term rental," says Mary Cook, President and Founder of MCA. "The goal was to embody a sense of welcome and comfort similar to the experience of visiting a friend or family member's home."
Beyond the artwork-filled lobby, the common areas, including a living room, dining room, and chef's kitchen, located on each floor feature distinctive color palettes. "We specifically designed the shared amenities to be flexible for a variety of uses, and now we see what was primarily envisioned as a private dining room that doubled as an impromptu conference room, then morphing into a venue socializing during cocktail hour," adds Cook.
An indoor-outdoor rooftop event space crowns the property, while a speakeasy-style entertainment space is set to be added to the lower level of the hotel.
More HD:
What I Learned Podcast: Tina Norden, Conran and Partners
The best new rooftop pools around the world
Nobu Hotel Barcelona marries Japanese and Spanish design