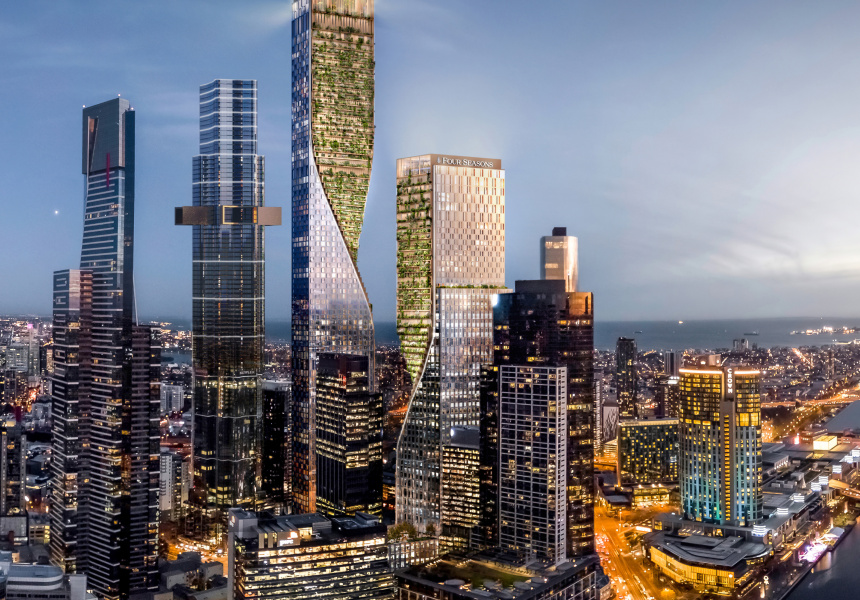 Melbourne's first Four Seasons hotel, part of Australia's tallest tower project
Australia's second Four Seasons hotel opens in Melbourne.
The luxury hotel giant operates more than 100 hotels and resorts worldwide, including one in Sydney's CBD, just off The Rocks. But its first location in Melbourne will be part of an ambitious new $2.7 billion project, including two riverside towers, by renowned local property developer Beulah.
Scheduled to be completed in 2027, Sth Bnk by Beulah is expected to rise 365 meters, making it Australia's tallest tower. And through its two terraced twisting spines will also be a 5.5 kilometer vertical garden – one of the tallest in the world.
It is a development of gigantic proportions and the Four Seasons will crown its smallest west tower. There will be 210 rooms, which guests will access via a Sky Lobby on the 63rd floor; views will span the CBD, the waterfront and the Royal Botanic Gardens.
"Four Seasons was the perfect partner for Sth Bnk by Beulah and will provide an unparalleled hospitality experience, while remaining unique to Melbourne," Beulah executive director Adelene Teh said in a statement.
"As Sth Bnk by Beulah continues to push the boundaries of what is possible in luxury, lifestyle and sustainability spaces, Four Seasons aligns perfectly with our ethos and vision, delivering unparalleled experiences, a bold commitment to innovation and fantastic sustainability initiatives in its hotels and resorts.
As part of the hotel, there will also be an expansive rooftop bar and restaurant, "world-class" health and wellness experiences, and several well-appointed event spaces.
Meanwhile, Sth Bnk by Beulah itself is expected to have a rooftop 'sky garden', public green spaces, a shopping area, and spaces for arts and cultural events. In addition, private residences, commercial offices and a health and wellness center.
Construction of the Four Seasons hotel in Melbourne is expected to begin in late 2022. It is expected to take approximately five years.
fourseasons.com

sthbnk.com