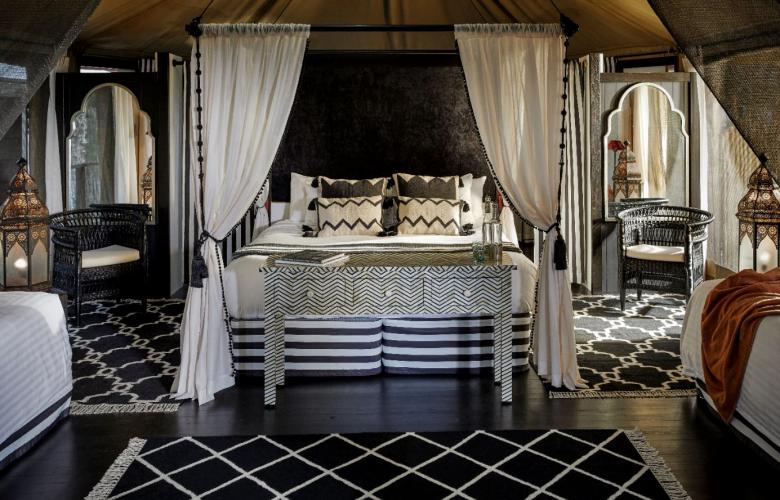 Paperbark Camp luxury ecotourism icon for sale JLL
JLL Hotels & Hospitality Group is pleased to offer the Paperbark Camp exclusively for sale, located in the pristine surroundings of the white sand and coastal bush landscapes of the famous Jervis Bay.
Providing a sense of luxury and seclusion in nature, the property features 13 luxury African-inspired safari tents on raised wooden platforms, all featuring wraparound decks, outdoor furniture, exterior bathrooms with bathtubs, all elevated and judiciously placed across the lush bush. Other facilities include a restaurant, bar, lounge areas with fireplace, 800m of walking trails, 500m of stream frontage and a range of facilities and activities for guests.
Located in the heart of three renowned national parks: Booderee National Park, Jervis Bay National Park and Jervis Bay Marine Park, in one of Australia's most popular destinations, Paperbark Camp has a guest offering truly unique in a natural bush.
Paperbark Camp has a solid reputation, business experience and is well positioned to capitalize on the growing trend in luxury eco-tourism.
The demand for local and natural experiences continues to drive the growing luxury ecotourism market and conditions are only expected to improve as the domestic market continues to seek vacation experiences in their backyard. This is expected to continue into the future, as positive experiences create recurring customer behavior.
Andrew Langsford, Senior Vice President of JLL Hotels & Hospitality, said, "We are seeing a renaissance of domestic travel in Australia and the drive-to markets are currently among the top performing accommodation markets in the country. Investor and customer demand for local experiences, coupled with green and sustainable offerings, ensures that Paperbark Camp will be a highly sought-after opportunity. "
Nick Roche, partner at JLL Hotels & Hospitality added, "This family-owned property has been in operation for over 20 years and has built an exceptional reputation for pioneering this style of luxury accommodation in Australia. Such approvals are increasingly difficult to obtain, and established operations are rarely offered in the market, especially in sought-after driving destinations near major cities. "
Paperbark Camp is offered for sale through Expressions of Interest ending December 2, 2021, providing a unique opportunity to acquire a desirable regional investment and hospitality icon. For more information, please contact the exclusive agents of JLL Hotels & Hospitality Group