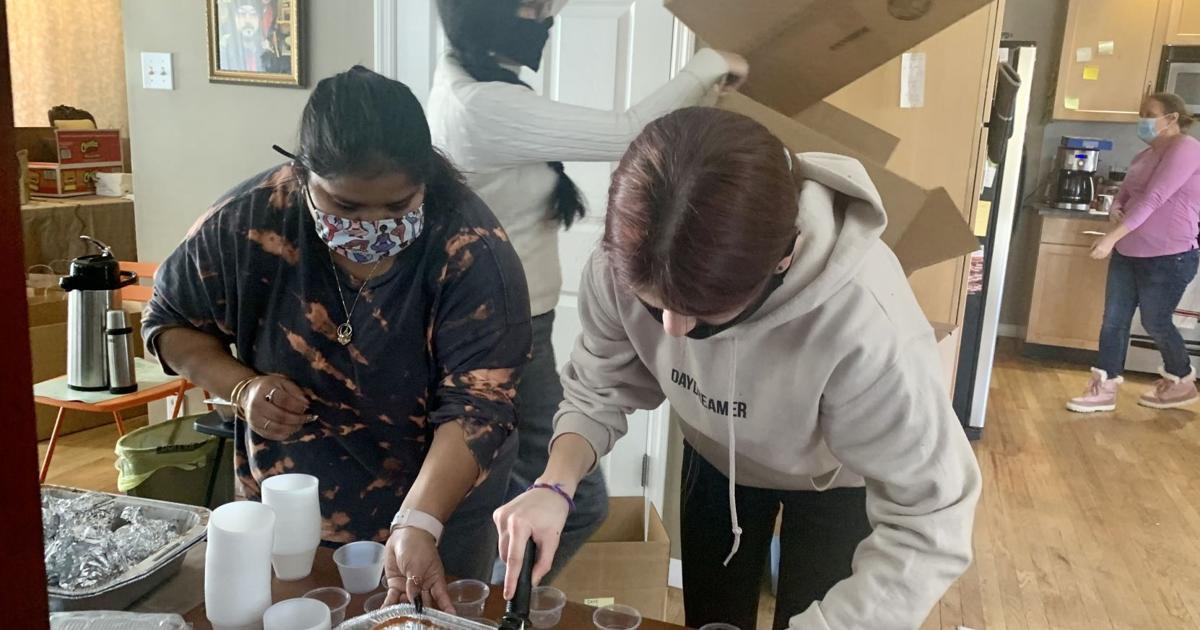 Sultan: A hot meal and a warm welcome | lifestyles
A volunteer shouted, "Let's make this happen," and an unusual assembly line swung into action at a small ranch in Clayton.
Two people in the kitchen opened cans and filled large aluminum trays with food on the dining room table. A handful of others posted themselves around the table and scooped up rice, beans, chicken and lettuce in restaurant-grade paper bowls. In a narrow hallway, two women were pouring salsa into plastic containers. Taco salad meals migrated to boxes in the living room where assistants added water bottles, dessert and disposable cutlery.
Each box was adorned with a handmade "Welcome to Saint-Louis" design and moved around the living room. Another volunteer taped up the boxes and sorted them by location to prepare them for delivery.
Later, a few volunteers will drive to three local hotels where evacuees from Afghanistan are staying while waiting to be accommodated.
Riz Khan, 55, and his wife, Farah Alam, 50, are organizing and supervising this operation from their home. They launched this specific project in partnership with the International Institute of Saint-Louis a month ago. They are part of local efforts, including groups like Welcome Neighbor STL and House of Goods, who want to show those relocating to St. Louis that they are wanted and welcome them and help them in their transition to life. in Saint Louis.
The couple's desire to help their local community was made official in 2013 when they launched the Little Angels Foundation. But their mission to provide food to those in need has taken off during the pandemic. In the spring of 2020, they started cooking dozens of meals and distributing them to homeless people.
"Last year, all my free time was spent packing food into bags," Alam said with a laugh.
The effort eventually attracted corporate sponsors such as Starbucks and Panera. People are drawn to the cause and Khan's tirelessly optimistic energy.
"Our vision was to bring people together – Muslims, Christians, Jews, Hindus, Sikhs," Khan said. This is what makes their weekend meal assembly line unique. It's a mix of people from diverse backgrounds and walks of life, ranging from their 13-year-old daughter to retired business leaders. When I went to observe their work, my husband and daughter came and were swept up in the effort. Our kids decided they wanted to come back on the weekends to continue participating. The desire to be part of something that benefits others transcends age, ethnicity and religion.
People like Khan and Alam have created an opportunity for others to give in all their capacity.
Khan immigrated to St. Louis from India in 2005 when his wife was accepted into Washington University's MBA program. He worked in marketing and she in corporate finance. He suffered a severe heart attack in his early 40s and lost his job 2½ years ago. But these setbacks allowed him to find his true purpose: to bring direct aid to those in need.
He coordinates and documents their efforts on LinkedIn, Facebook, WhatsApp and NextDoor. Foreigners will place welcome signs made by their children in front of their door. All cooking is done by volunteers and supplies are donated.
Afghans staying temporarily in hotels rely on grocery store gift cards to buy groceries and use kitchenettes to cook their own meals. (The International Institute, which has helped resettle more than 500 Afghans over the past year, gave away $80,000 in gift cards.)
Khan is still part of the meal delivery team, which delivers between 100 and 150 meals. The Afghan families insist that he stay for a cup of tea in the hotel lobby. A man told her that he had a construction company in Afghanistan and had run away with nothing. Khan uses his professional contacts to help him find employment opportunities.
Her non-profit work goes beyond simply distributing hot, home-cooked meals. After nearly two years of isolation, people are craving connection.
That's what it aims to deliver.
For more information and ways to help, check out these local nonprofits:
LittleAngelsFoundation.org